Today is Touhou LostWord's half anniversary!
To celebrate the big day… welcome to Touhou LostWord's Half Anniversary Quiz Event!
Check out all the details below on how you can enter and potentially get prizes.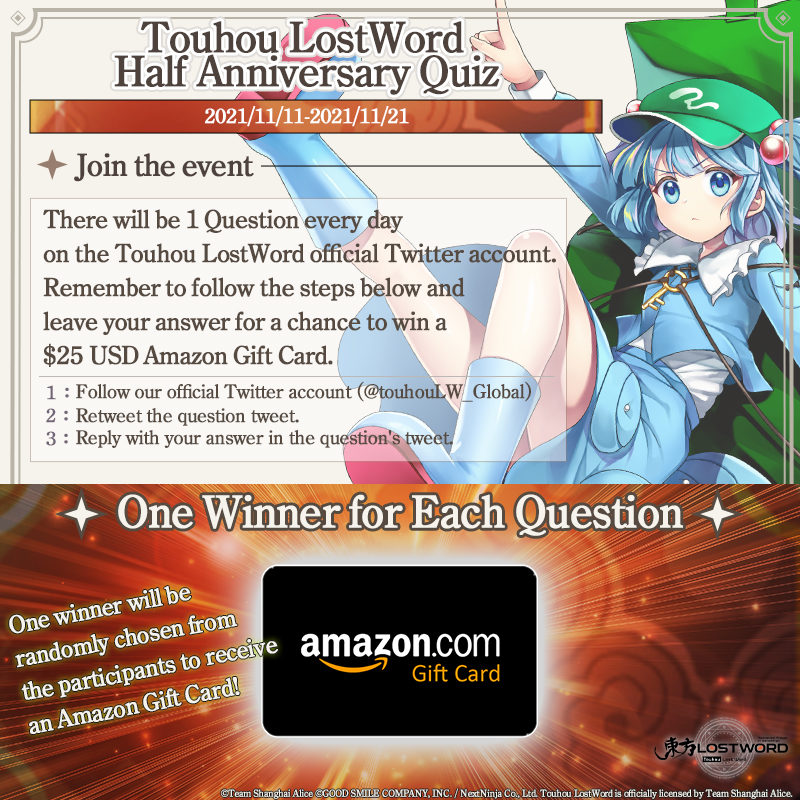 Event Period
2021/11/11 – 2021/11/21
How to Enter
– First, please follow our official Twitter account (@touhouLW_Global).
– For the Touhou LostWord's Half Anniversary Countdown Quiz Event, we're going to post a question about Touhou LostWord's characters every day from 11/11 – 11/21, so please keep an eye on our official Twitter account!
– When the question is posted, retweet the question post and reply with your answer in the Question tweet, and then you're officially entered.
Rules and Prizing
– There will be 1 winner for each question. (10 winners in total)
– Each winner will receive a $25 USD Amazon eGift. – All winners will be selected at random from qualified submissions.
– Players can only win one reward.
– We will inform the winner via our official Twitter account. If we can not receive any reply from the winner in 7 days, the winner will be disqualified, and we will not select a new winner again.
As always, thank you for all of your support and feedback since the release of Touhou LostWord. Good luck Friends!