Thank you for playing Touhou LostWord.
The game will be undergoing maintenance during the period listed below in order to prepare events and other content that will go live during New Years as the team will be on Holidays at that time, during which you will not be able to play the game. We apologize for any inconvenience caused during maintenance.
Maintenance Period
2021/12/28 2:00~8:00 UTC
Note: The ending time is subject to change without notice.
Maintenance Details
The game will be undergoing maintenance to implement game updates for January 1. Details on the January 1 update will be given during the Live Stage on Discord on December 31, followed by in-game and social media announcements afterwards. 
Discord Live Stage will be held during the following time
12/31 10:00 PM ~ 1/1 12:00 AM (PST)
Feel free to join us on Discord by clicking the link in the image below to join the official server!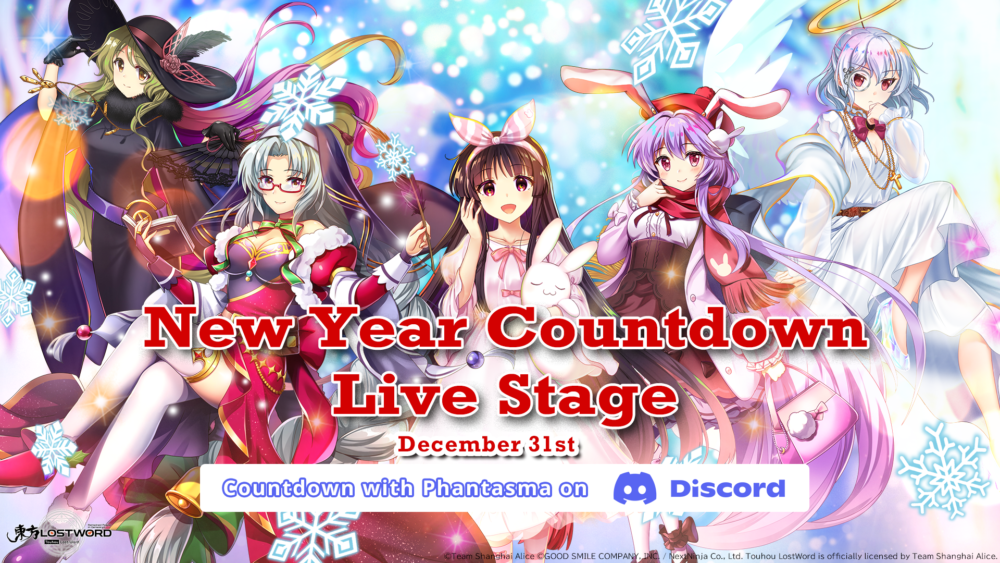 We hope you're excited to see what we have in store for the game for the New Year! 
Official Discord: https://discord.gg/touhoulostword
Maintenance Rewards
And to thank you for your patience during maintenance, the following rewards will be sent to your Mail!
Rewards list:
– 5 Seal Crystals
– 1,500 Coins
– 500 Spirit Points
Claim your rewards from Home > Mail within 30 days!
Enjoy your journey in Touhou LostWord!