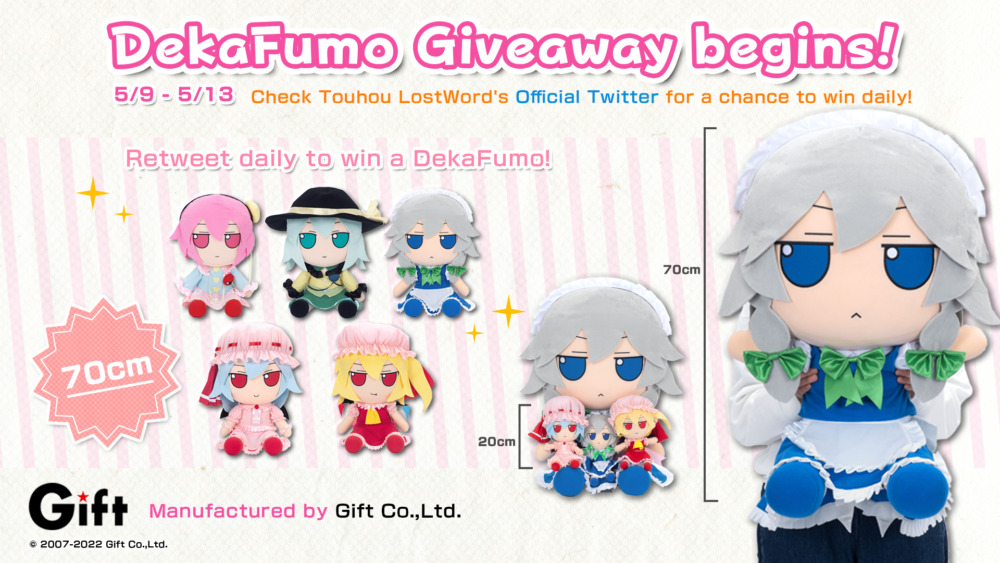 Thank you for playing Touhou LostWord.
To celebrate the 1st Anniversary s of Touhou LostWord, we're running a follow & retweet campaign on our official Twitter account!
We'll be giving out 1 DekaFumo every day to 5 lucky winners!
You can join in by following us on our official Twitter account and retweeting the campaign tweet. Come test your luck!
Watch Fumo videos on our Youtube channel
Campaign Details
How to participate
1. Follow our official Twitter account @touhouLW_Global
2. Retweet the campaign tweet
Note: You have to complete both steps to apply.
Application Period:
May 9 – May 14 (2022)
Until 7:59 UTC of the day when the campaign tweet was posted.
※1 winner will be selected randomly per day during period①~period⑤
①DAY1 5/9 8:00~5/10 7:59 UTC
②DAY2 5/10 8:00~5/11 7:59 UTC
③DAY3 5/11 8:00~5/12 7:59 UTC
④DAY4 5/12 8:00~5/13 7:59 UTC
⑤DAY5 5/13 8:00~5/14 7:59 UTC
Prizes
DekaFumo (25.5 inches Big size!)
5 winners in total
Every day, 1 randomly selected winner will receive 1 DekaFumo.
Size:  H 25.5 inches  (H 70 cm)
One DekaFumo will be selected randomly per day from the following 5 items:
・Koishi Komeiji
・Satori Komeiji
・Sakuya Izayoi
・Remilia Scarlet
・Flandre Scarlet
Prizes from: Gift Co., Ltd.
Product page: https://www.gift-gift.jp/
Winner Announcement:
– We will contact the winners through our official Twitter account (@touhouLW_Global) via DM to deliver the prize.
– Winners will only be notified via DM.
– If a winner does not share enough information to deliver the prize, has their Twitter account set to private, deletes the relevant tweet, or unfollows our official account, that will be considered as declining to receive the prize.
Important Information:
– Anybody with a Twitter account can apply.
– You cannot apply if you do not have your own Twitter account.
– Please make sure your account is set to public when you apply. If your account is private, you will not be able to apply.
– Accounts with blank profiles (no name, profile, icon, etc.) may not be accepted.
– Inactive accounts may not be accepted.
– Accounts that have DMs blocked will not be able to apply.
– If we do not receive a reply within one week of our contacting you, your win will be considered void.
– If fraud is detected during the campaign, the campaign may be terminated.
– The information on this page and all terms and conditions are subject to change without notice.
– Prizes are not transferable to others or redeemable for cash.
– Any internet communication fees incurred when applying for this campaign are the responsibility of the applicant.
Official Rules
1. The promoter is NextNinja. There is no entry fee and no purchase necessary to enter this giveaway. Employees of NextNinja or their family members or anyone else connected in any way with the campaign or helping to set up the campaign shall not be permitted to enter the giveaway.
2. No responsibility can be accepted for entries not received for whatever reason. The promoter is not responsible for inaccurate prize details supplied to any entrant by any third party connected with this giveaway. The promoter reserves the right to cancel or amend the giveaway and these terms and conditions without notice in the event of a catastrophe, war, civil or military disturbance, act of God or any actual or anticipated breach of any applicable law or regulation or any other event outside of the promoter's control. Any changes to the giveaway will be notified to entrants as soon as possible by the promoter.
3. The campaign begins May 9th, 2022 (the 'Opening Date') and will close at 16:59 JST on May 14th, 2022 (the 'Closing Date'). The promoter reserves the right to modify the duration of the campaign. Winners will be chosen at random via NextNinja. Winners will be notified via Twitter direct message no later than May 31st, 2022. If a winner cannot be contacted or does not claim the prize within 7 days of notification, we reserve the right to withdraw the prize from the winner.
*Please note that the following will disqualify an entry from being selected for the winner.
– Unfollowing our official account or deleting the relevant tweet before we send the winning notification message.
– Private accounts, accounts that have DMs blocked, or any other cases in which the winner cannot be contacted.
– And any other acts that NextNinja deems are inappropriate.
4. The promoter will notify the winner when and where the prize can be collected. No cash alternative to the prizes will be offered. The prizes are not transferable. Prizes are subject to availability and we reserve the right to substitute any prize with another of equivalent value without giving notice.
5. This campaign is open worldwide, and is void where prohibited by law. Entrants are responsible for abiding by their respective regional governing laws. NextNinja will have no concern and will not be responsible for any missing parcel or damages during shipping.
If prize delivery is unable to be completed for whatever reason (e.g. prize winner is not at home, unable to obtain information such as address or name of the winner, etc.), the entry of the winner will be void. NextNinja shall have no concern with any problems if there is a delay or inability to mail due to an event (political reasons, economic reasons, law amendment, dispute, disaster, restrictions on postal service, etc. ) that occurred from the destination country.
6. The promoter's decision in respect of all matters to do with the campaign will be final and no correspondence will be entered into. The promoter accepts no responsibility for any damage, loss, injury (other than our liability for personal injury or death due to a direct result of our negligence) or disappointment of any kind suffered by any entrant in entering the campaign, including as a result of any entrant winning or not winning any prize.
7. By entering this campaign, an entrant is indicating his/her agreement to be bound by these terms and conditions. Entrants and the winner agrees to the use of his/her name and image in any publicity material. Any personal data relating to the winner or any other entrants will be used solely in accordance under the laws, regulations and protection legislation of Japan without giving effect to any conflict of laws principles to the contrary. Winners' personal data will not be disclosed to a third party without the entrant's prior consent.
8. This promotion is in no way sponsored, endorsed or administered by, or associated with, Facebook, Twitter or any other Social Network. This promotion is in no way sponsored, endorsed or administered by, or associated with Facebook Technologies, LLC, Facebook, or Amazon. You are providing your information to NextNinja and not to any other party. Entry into the campaign will be deemed as acceptance of these terms and conditions. The campaign and these terms and conditions will be governed by Japanese law and any disputes will be subject to the exclusive jurisdiction of the Tokyo District court.
9. Privacy Policy
We collect and use your personal data for sending you notifications about events and campaigns in "Touhou LostWord." And for details on the handling of personal information, please refer to the URL below.
https://global.touhoulostword.com/privacy/
Join us on Discord to check the latest information!
https://discord.com/invite/touhoulostword
Enjoy your journey in Touhou LostWord!