Thank you for playing Touhou LostWord!
It's your turn to decide! Vote for which Prayer you want to see the most on Touhou LostWord's official Discord!
↓ Join us on Discord via the link below↓
https://discord.com/invite/touhoulostword
Discord users will be able to vote on one of three following A-Type Universe Prayers that will be featured in-game!
The Prayer with the most votes will be featured in-game from 2023/4/21 7:00 UTC until 2023/4/28 2:59 UTC.
To celebrate the occasion, the winning Prayer will also include x2 the Featured Friend rates, and you'll get x2 the Fortune Dust when you perform the Prayer using God Crystals!
In addition, all players will get 10 FREE Prayers on the winning selection, delivered via a new Login Bonus!
Your vote counts, but only if you cast it!
Head to our Discord server and let your voice be heard!
How to Vote
Jump into our Discord official server
    ↓
Navigate over to the "*☯ーDEV CENTERー☯*" tab
    ↓
Enter the "# players-choice" channel
    ↓
Tap the icon of the Friend set you want to vote for!
Available until:
2023/4/14 3:59 UTC
Choices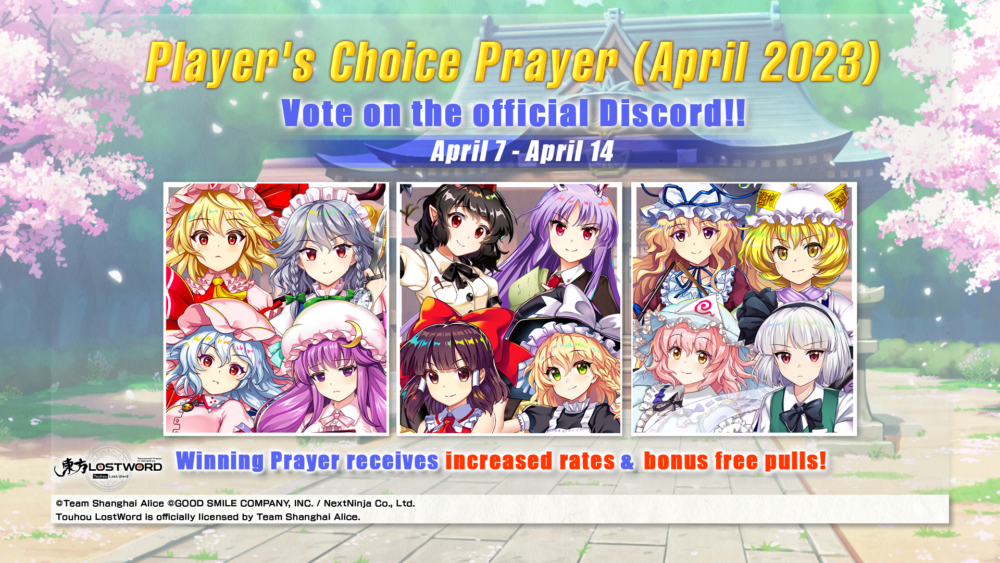 ・The Scarlet Devil Mansion!
Remilia Scarlet (A6)
Flandre Scarlet (A6)
Sakuya Izayoi (A6)
Patchouli Knowledge (A6)
・Incident-Resolving Protagonists!
Reimu Hakurei (A6)
Marisa Kirisame (A6)
Reisen Udongein Inaba (A8)
Aya Shameimaru (A9)
・Netherworldly Friends!
Yuyuko Saigyouji (A7)
Youmu Konpaku (A7)
Yukari Yakumo (A7)
Ran Yakumo (A7)
About Discord
On the Official Touhou LostWord Discord server, you can chat with other Touhou LostWord players about the game or Touhou in general, ask questions and get help, or just have some fun with each other! Also, feel free to leave feedback about the game in our feedback channels!
We also hold Live Stages monthly where we have members of the development team chat with everyone live! Join us to ask questions directly to the team!
Enjoy your journey in Touhou LostWord!