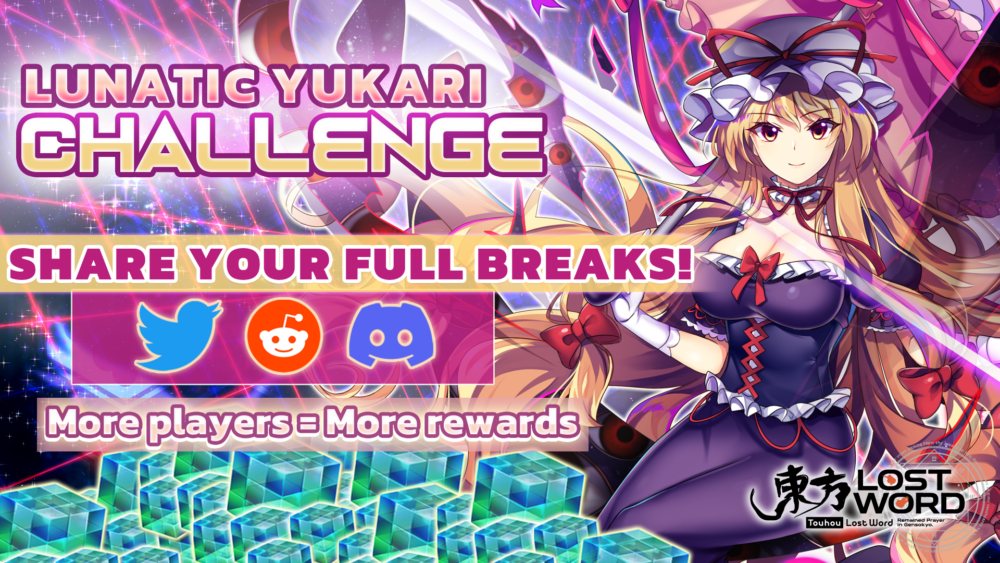 Thank you to all participants, we've reached 3,000 Full Break shares!
The following rewards will be sent to everyone on June 11th(UTC) after maintenance.
50 Seal Crystals
50 God Crystals
1 Guaranteed Friend Ritual
Look forward to the next challenge!
Touhou LostWord's first in-game challenge has begun!
Lunatic Yukari Challenge details
Period: 5/28 ~ 6/10
Challenge: Full Break Lunatic Yukari on mission 1-5 And Then Nobody…?
How to participate: Share a screenshot or video of Lunatic Yukari in a Full Break state
Methods of sharing results:
Reddit megathread:
Share your results in the Reddit megathread for the challenge: https://www.reddit.com/r/touhou_lostword/comments/nnch6v/touhou_lostword_ingame_challenge_full_break/
Twitter hashtag:
Tweet your results to @touhouLW_Global with the hashtag #FullBreakYukari
Discord:
Join discord and share your results in the channel #lunatic-yukari
https://discord.com/invite/touhoulostword
Prize:
If 100 people are able to share Full Breaks of Lunatic Yukari, all players will receive 10 Seal Crystals once the challenge period finishes
If more than 100 people are able to share Full Breaks, the prize pool will continue to be increased . So, the more people that participate and share, the more the rewards will be increased!
At 500 Full Break shares all players will receive 50 Seal Crystals!
At 1,000 Full Break shares all players will receive 50 God Crystals!
The next reward will be announced at 3,000 Full Break shares!
Cautions:
※You must include your full screen when sharing your results
※Lunatic Yukari Yakumo must be show to be in a Full Break state. The shared results should show Full Break character model of Yukari. See the reference image below
※Only results shared on Reddit, Twitter, & Discord will be counted
※Please refrain from sharing the same results multiple times, multiple entries from a single individual will not be counted.
※If you have questions about the Lunatic Yukari Challenge, please direct those questions to the Discord community staff via the #questions-advice channel
※Prizes are not additive.
※Prizes will be sent to players after the challenge finishes and shares are tallied.
Example of a submission that clearly shows Yukari in a Full Break state and her unit frame which clearly shows HP & barriers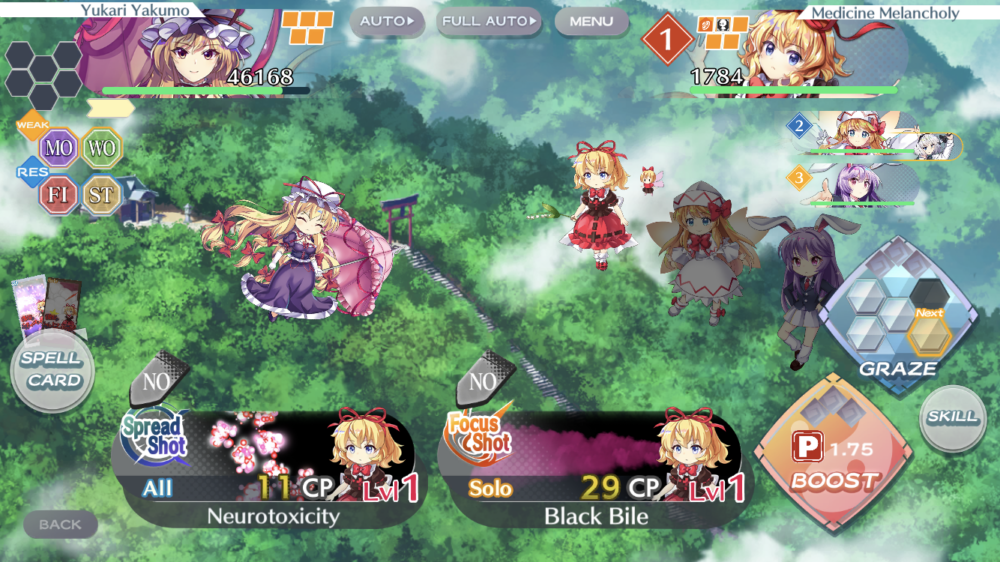 Good luck to all, and we look forward to seeing how many people are able to complete the challenge!
For those who would like hints in how to Full Break Lunatic Yukari, there might be some info here… https://gamepress.gg/lostword/#news-more